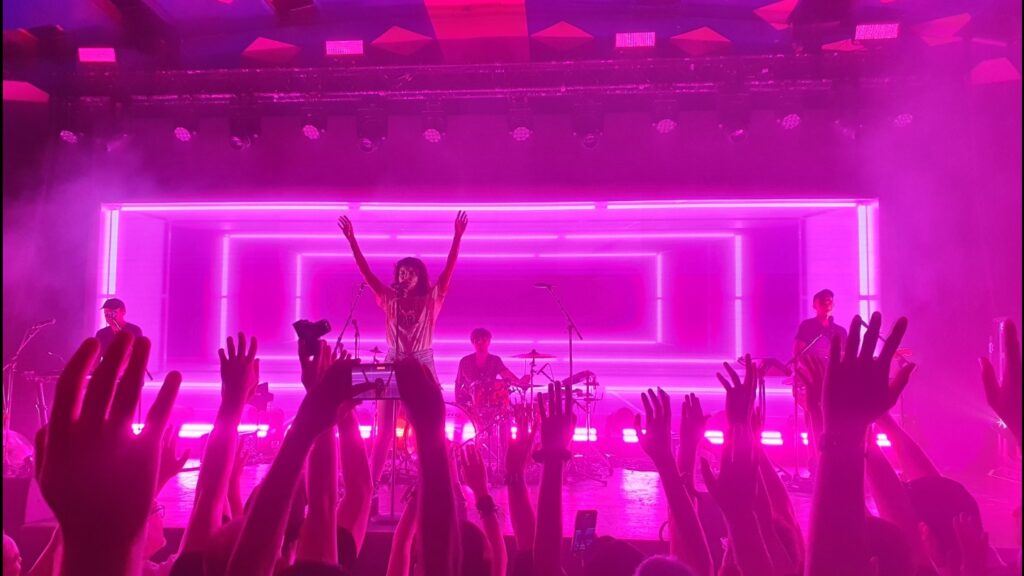 Off to Glasgow to top up my tan and catch a performance whilst there. Unfortunately the weather forecast is heavy rain and thunderstorms. Fortunately the forecast is wrong and it's another warm, sunny, summer's day! The gig is Scottish indie/ electronica band 'Chvrches', fronted by the charismatic and ever effervescent Lauren Mayberry, accompanied by the musical mavericks, Martin Doherty, Iain Cook and Jonny Scott. The venue is the legendary 'Glasgow Barrowlands' (the prefix 'Glasgow' is not really necessary as there is really only one legendary 'Barrowlands').
This was intended to be the climax of the 2021 to 2023 'Screen Violence' tour. The second of two shows at the Barrowlands, appropriately set in the band members' own hometown. However there was to be another (rescheduled) show tomorrow in Dundee. Would they hold back knowing that they had to perform three packed home nation shows in three days, that's not to mention all the previous gigs on a three year tour including additional international support slots for 'Coldplay'? Allow me to answer and throw light upon the day as it unfolded.
Fans started arriving early in the morning and had their hands or wrists temporarily decorated with numbers indicating their place in the queue should they wish to nip away for a bit. There were a few bars and coffee shops nearby and people were enjoying a beverage outside on this gloriously sunshiny day. Doors were to open at 7pm and as that time drew nearer the line outside the venue began to grow. There was a buzz spreading, initiated by those who were at the previous night's show, about the support act 'Dead Pony' (another band formed in Glasgow) and many either wanted to see them again or check out the mini wave of hype they had heard.
Sure enough by 8pm when Dead Pony were ready to grace the stage the Barrowlands was already fully packed. They did not disappoint. They were brilliant. I might even go so far as to say that for a band who has only just released their debut album this year, they are one of the best supporting artists that I have seen for a while. Consequently some Chvrches fans have already purchased tickets for Dead Pony's own tour in September and it's sure to be a belter. I hope everyone going has a great time.
Next up was headliners Chvrches.
At precisely 9pm the lights went down and the large screen behind the main stage lit up to display flickering, glancing, fleeting images, against a background of fizzling static and imposing distortion. As the band members made their way to their positions they were greeted with a roaring cheer from the embracing audience. Lauren appeared in a fashionably fitting tartan lycra two-piece that wouldn't look out of place at an upmarket gymnasium.
Aha.. but little did (some) of us know the practicality of such attire. For not only can this Scots lass belt out live vocals but she also incorporates a physical visual performance, including impressive pirouettes spanning the entire length of the stage, occasionally stopping to seemingly sing to each individual member of the crowd, maintaining this high level of vivacity for the entire duration of the show. The onlookers responded to this abundance of emanating energy by cheering, singing along enthusiastically, throwing their arms in the air, making little heart signs with their hands and generally having a wonderful time.
They (the band) were having a party and everyone watching was most definitely invited. Aside from the captivating front woman, the rest of the band was also giving it their all. Iain Cook moving around energetically when playing guitar and synths. Martin Doherty punching the air to fire the crowd up further whilst providing backing vocals, playing guitar and synths. Drummer Jonny Scott carrying out his role on drums with fervour, enthusiasm, aplomb, and great big smile.
This was a gig for the fans that even newcomers could enjoy, which can be attributed in part to the set list that appropriately contained music from their latest album 'Screen Violence' and also some fan favourites from the previous three albums. Highlights included the opener 'He Said She Said' followed by the fantastic 'Forever', fabulous 'Leave a Trace', 'Bury it', 'How Not to Drown', 'Violent Delights', I could go on (it was a very good selection of material that worked tremendously well live).
The set closed with an encore of three songs; a poignant number from 'Screen Violence' titled 'Asking For A Friend', the Chvrches song almost everyone knows 'The Mother We Share' and the popular dance floor filler 'Clearest Blue'. This was a lively performance of a band in synergy with the crowd, both clearly enjoying themselves to the limit. The sound was flawless. The lighting and visuals were impeccable. Stewards helped to keep the crowd supplied with water throughout. Everything was meticulously executed.
My final verdict: This was a great gig. The songs and band were both outstanding. The Barrowlands is an amazing venue where you can literally get to within two metres of the stage. Everyone including the crowd played their part. The atmosphere was incredible. Quite simply I loved every minute of it!
Set List:
Intro/ He Said She Said
Forever
Leave A Trace
Bury It
California
How Not To Drown
Violent Delights
Science/ Visions
Good Girls
Miracle
Night Sky
Final Girl
Recover
Never Say Die
Asking For a Friend
The Mother We Share
Clearest Blue
Bonus Content
I thought some of you might like to read some more so I'll continue. After the show had ended fans amassed at the main stage barrier in the hope of acquiring a souvenir to remember the night by. Sure enough a couple of lucky individuals were able to coax a coveted set list complete with bloody hand print from the obliging stage crew. One plucky lass, spotting a plectrum other side of the barrier, boldly and spectacularly leapt across, grabbed it and then hurled herself back over before the stewards were able to stop her. A promising future Olympian. Fortune truly does favour the brave.
I then made my way to the sound desk and spoke briefly with a lovely chap to compliment him on the terrific job they'd all done on the technical side of things and in return he gave me a copy of the set list for which I owe him many thanks. That would ordinarily be the end the night but that's when things got really interesting.
Outside the venue a small group of a dozen or so stood by in the hope that they might catch a glimpse or even meet the band. One fella said he found Chvrches music depressing and yet he'd seen them fourteen times since 2018 (I worry about him) if you're reading this look after yourself mate. After a while the truly excellent support act 'Dead Pony' did appear at the front entrance to briefly chat with those waiting albeit without their drummer who apparently took unwell during the gig. I can only wish him all the best and a speedy recovery.
For those that remained it was now a waiting game and as the hours went by the group was reduced to a mere seven (that I will henceforth refer to as the 'Magnificent Seven') including a mother and daughter, a couple from Italy, a (different) guy from the States, a guy from South of the border (the disproportionately large Northern bit) and me. The 'Seven' (as I am now abbreviating them to) waited three hours only to discover the band had left some time earlier through a side door. However new friendships were forged and all was not lost.
By now it was past 1.30am and I had to make my way across Glasgow city centre on my own, passing streets that I'm sure I've seen in murder scenes on TV (maybe that was just 'Taggart' – I can't be sure). Nevertheless I made it to Buchanan Street intact. I boarded the 2am bus to Edinburgh and was joined at a table by an arguing couple heckling back and forth 'why do you never listen to me?' and the like. The lady managed to tip the entire contents of her handbag all over the floor just as the bus pulled away. This was going to be an interesting journey.
To be fair once I got chatting to them they were quite good company and we talked about movies all the way to Edinburgh arriving just as the sun was rising. There were so many road closures and diversions in the city I thought we might go past my flat eventually, but em no. Knackered and dehydrated I found myself tilting my cap at seagulls as I made my way on the last leg of my journey, like Don Quixote on some hallucinogenic trip. Finally around 4.30am I made it home.
Thanks for reading my guest review for Edinburgh Insider and I truly hope you have a fabulous day! AFx